Best Hitting Aids for Youth Baseball
As parents, we all want to see our kids performing at the top of their hitting game. However, the road to achieving peak performance can seem complex and daunting. There are numerous hitting aids for youth baseball players on the market. There is also an abundance of coaches willing to offer expensive private hitting lessons. So which youth baseball hitting aids make the most sense for your son or daughter?
The key is to select the training source that makes developing the proper swing path a fun and intuitive process. Preferably without draining your wallet. Enlisting the help of a hitting coach tends to be thought of as the most trusted route to take. While hitting instructors will agree that having strength through the hitting zone is an absolute.  Each hitting instructor teaches bat path in a unique way that can sometimes be controversial. This can cause issues with learning proper baseball swing mechanics for youth players. However, The LineDrivePro Swing Trainer takes the guesswork out of it through visual feedback that the hitter sees and feels. The baseball hitting drills are also fun. Check out our list of kids baseball drills for 3 youth hitting drills young hitters will enjoy.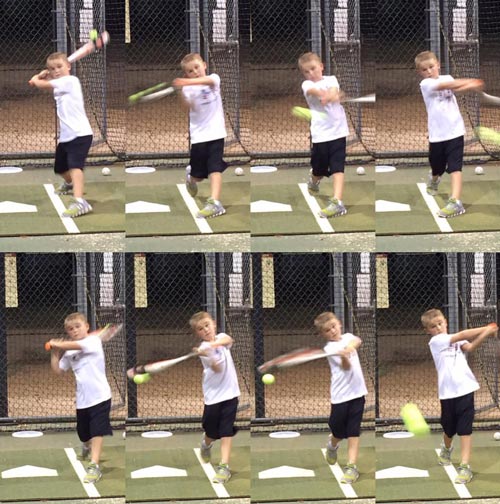 Ranked One Of The Best Baseball Hitting / Training Aids
BY BASEBALL MADE FUN
The LineDrivePro Trainer baseball hitting aid has a proven track record of helping youth baseball players to both develop a feel for and see the results of a proper swing path through a no-pressure, natural progression. In fact, a recently posted article by Baseball Made Fun named the 5 Best Hitting Aids, and LineDrivePro Trainer was #1 on their list of hitting aids for youth players. The site found LineDrivePro to be the most effective training aid. This is due to the simplicity of how it straps directly to the player's own bat, creating a natural experience for the hitter. The immediate visual feedback offered by seeing the ball leave the bat makes the process of learning proper swing mechanics intuitive for the player and shows that baseball hitting aids are the best coaches. Plus, learning to control ball movement makes training fun by turning hitting drills into a game of target practice using our Hitting Target & Swing Trainer ProBundle.
We know that each player is unique and improvement is a continuous process.  You may find the need to re-evaluate your young hitter's training needs as they grow and develop. The great thing about LDPT is that it is applicable to a hitting program designed around its sole use or utilized as a hitting tool within a broader training approach. Athletes of all ages and skill levels can benefit from the use of The LineDrive Pro Trainer as it is one investment that will continue to help your hitter refine his or her ideal bat path for years to come.
ALSO SEE: 5 Best Baseball Hitting Trainers – A Guide To Selecting The Best Hitting Aids for Improving Your Swing